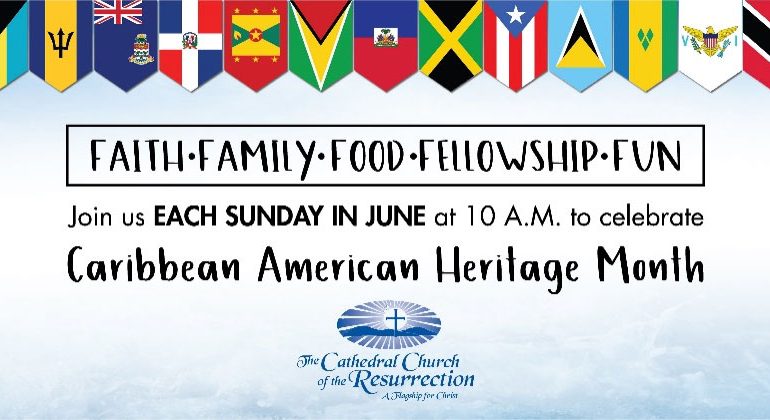 Caribbean American Heritage Month which begins June 1st recognizes the achievements and contributions of Caribbean Americans in the United States.  
Members of The Cathedral Church of the Resurrection extend a heartfelt invitation for the Miramar and South Florida community to join us in recognition of this special month-long event.  In addition to an exceptional time of faith-filled words shared during the sermon by one of the clergy members, there will also be a great time or family, food, fellowship and fun.  The events will also feature various Caribbean Islands in their congregation and each Sunday in June is dedicated to a different Caribbean culture. The celebration will begin at 10 a.m., and featured islands include: 
June 5th – Jamaica
June 12th – Barbados, Grenada, and Virgin Islands
June 19th – Bahamas, Guyana, and Trinidad
June 26th – Haiti, and Turks and Caicos
The Cathedral Church of the Resurrection are men and women of faith with diverse backgrounds seeking to encompass all three streams of worship: Sacramental-liturgical, Evangelical and Charismatic under Bishop David Simpson. The Cathedral Church of the Resurrection is located at 6701 SW 25th Street in Miramar, FL. We look forward to meeting you!